The "guidebook score" is now available on Eater Space
Restaurant pages on Eater Space now display a rating corresponding to the evaluation of the institution by critics recognized.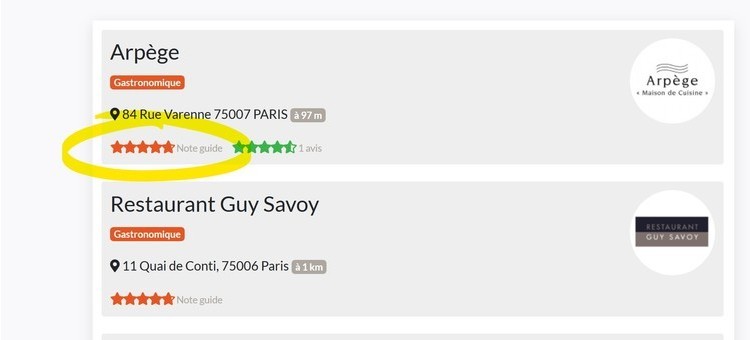 Members attentive to Eater Space will have noticed, a new note, the note guide, appeared in orange on the pages of some restaurants.
This note guide, in addition to notes users, you can now quickly identify restaurants that have been honored by their colleagues for the specialists of the gastronomy.
The note guide is an average obtained from the marks given by two gastronomic guides, recognized.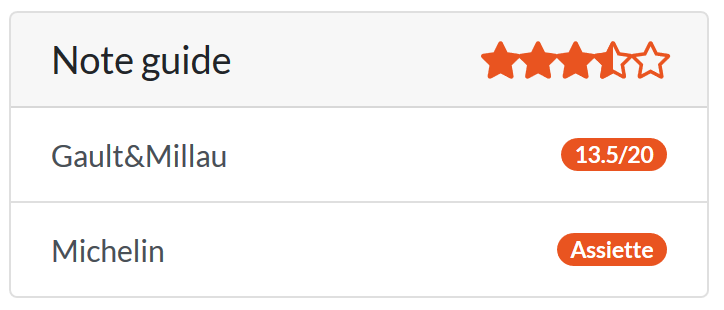 Note Michelin Guide
The guide is the best known of France, which has existed since 1900.
The rating system of the Michelin guide awards to restaurants for the following prices :
3-Star "A striking kitchen" (the equivalent of Eater Space : 5/5)
2-Star "excellent cuisine, this table worth a detour" (the equivalent of Eater Space : 4.5/5)
1 Star "A very good cuisine in its category" (the equivalent of Eater Space : 4/5)
Base on "Quality of products and tour of the chef's hand : a good meal to simply as" (the equivalent of Eater Space : 3.5/5)
Bib Gourmand "quality Kitchen at the best price" (equivalent Eater Space : 3/5)

For instance : in the year 2019
27 restaurants were honored with the three Stars
83 restaurants have them two Stars
515 restaurants were awarded one Star
2427 restaurants have got a Plate
597 restaurants were awarded a Bib Gourmand

More info on the Michelin guide on wikipedia

Note Gault & Millau
This restaurant guide was published for the first time in 1972. The rating from Gault and Millau reached a maximum of 20 points. Thus, a score of 16/20 on the Gault and Millau becomes a 4/5 on eater space (the score is divided by 4 to obtain an equivalent eater space).

For instance : in 2019, the 1000 restaurants that have obtained a score from Gault and Millau.

More info about Gault and Millau on wikipedia

Published